About Dr. Danielle Fishel DC, CACCP
Dr. Danielle Fishel, formerly Danielle Pfyl opened Fishel Chiropractic in Crestwood, MO in September of 2018. Dr. Danielle was born in raised in St. Louis, Missouri. She attended Missouri Baptist University, where she received her bachelor's degree in Exercises Science. Dr. Danielle then went to at Logan Chiropractic College, where she graduated as a Doctor of Chiropractic.
Dr. Danielle's passion for chiropractic started at the very young age of 11. She grew up watching her late great uncle, Dr. Don Pfyl, adjust many of her family and friends. She was fascinated with the anatomy and physiology of the human body and eventually learned how chiropractic care affected it. Her interest, and eventually passion, for helping people through chiropractic care grew. She fell in love with the natural and holistic approach of chiropractic care.
Dr. Danielle uses many techniques to help her patients. She is trained in traditional and light force techniques such as diversified, Webster, Craniosacral, Thompson, and Activator. She also uses different forms of physiotherapy in her office, including spinal rehabilitation exercises, hot/cold therapy, therapeutic ultrasound, and soft tissue massage.
Dr. Danielle has a passion for helping families in chiropractic care. She is Webster Technique Certified, an adjusting technique for pregnant women that focuses on balancing the pelvis for birth. She has her Prenatal Certification through the ICPA. She is certified in CST, cranial sacral technique. She has also received additional education in treating, diagnosis of conditions, and adjusting children through the ICPA (International Chiropractic Pediatric Association). She received her CACPP certification and is in pursuit of her Diplomate in the Academy Council of Chiropractic Pediatrics or DACCP.
Dr. Danielle met her husband, Dr. Beau Fishel, in chiropractic school. She has a two beautiful daughters named Riley and Blake . As a family, they enjoy going to church at Concordia Lutheran church in Kirkwood, exploring outdoors, playing sports, and being active.
---
---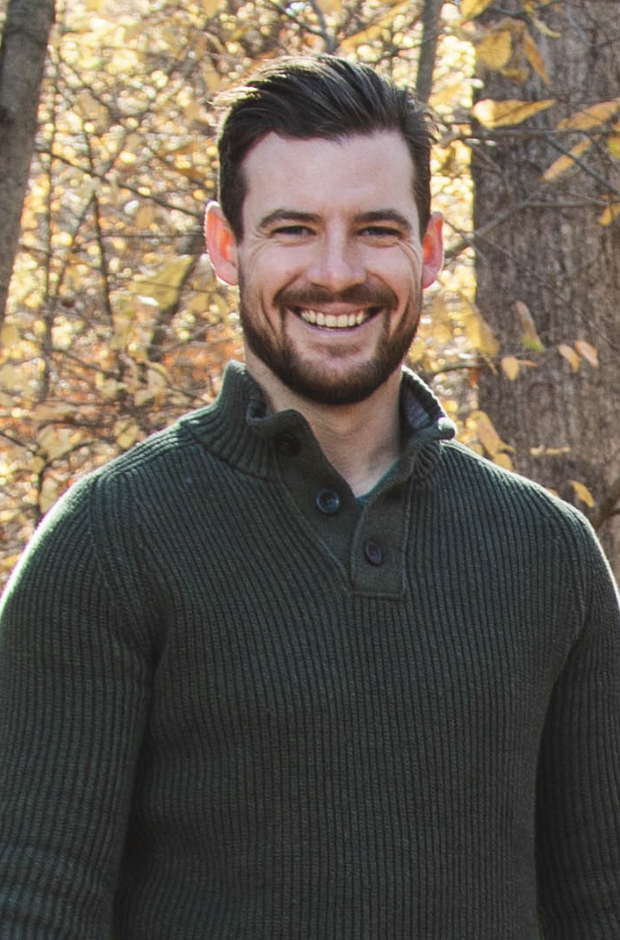 Dr. Beau has a long history with chiropractic care. He was born two months before his father, Jeff Fishel Sr., graduated from Logan College of Chiropractic. His younger brother, Jeff Fishel Jr., is also a chiropractor is his home town of Arcola, Illinois. Then, after Dr. Beau married another chiropractor, its safe to say that chiropractic care runs in the family.
Growing up in small town central Illinois, everything in town was within walking distance. This made it easy to hang out at the office where his dad worked, and is where Beau saw how much his dad changed the lives of his patients on a daily basis. Being a practitioner in a small town, patients would come to Dr. Jeff for EVERYTHING. No matter what walked through the door, Beau's father always knew what to do for them. With that type of role model, it was a very easy decision to apply for chiropractic school.
Dr. Beau enjoys hanging out with his family, school, hunting, fishing, football, and the color purple. Before attending Logan College, Beau studied at Millikin University where he played football and earned a bachelor's degree in chemistry. Since school is actually one of Beau's favorite things to do, he went back to school to become a paramedic and attend the St. Louis County Fire Academy. In 2022, Beau will serve as a paramedic, firefighter, as well as, continuing as a chiropractor at Fishel Chiropractic.
---
"I started seeing Dr Danielle after my second kiddo was born. She helped reduce my back pain right after giving birth along with guiding me on my journey to become stronger. Now, 6 months later, I feel like myself again, and maintain my overall health with regular adjustments. She is professional, personable and knowledgeable, always making you feel comfortable. I recommend her to my closest friends/family! Chiropractic care has been a wonderful resource in maintaining my personal self care."

Emily C
"We've had two members of our family turn to Dr. Danielle Pfyl Fishel DC for chiropractic care, and I can't emphasize enough how happy we are with that choice! Every single visit, she demonstrates an incredible level of professionalism, knowledge, and care. Her passion for helping her patients is truly amazing. We would never go anywhere else - highly recommended!"

Alex K
---