Just a little about Dr. Danielle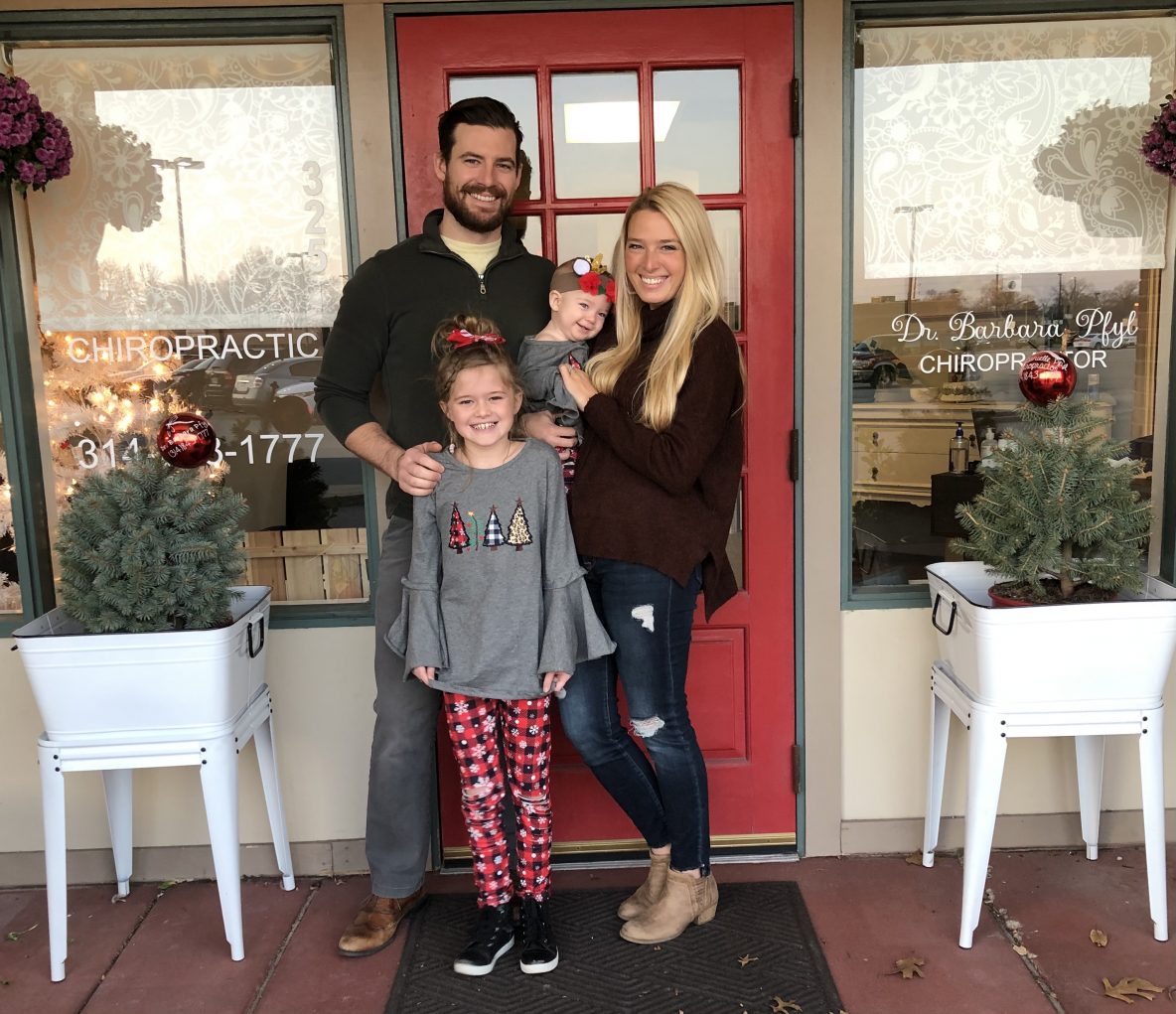 Welcome, welcome! I am so glad you're here. I am Dr. Danielle Fishel, owner and head chiropractor at Fishel Chiropractic. As you may be able to tell through looking at my website, this is my first ever blog. So jump on and enjoy the ride! My goal is to offer you well researched information that can help you make choices for either you or your little ones that will help you along your health and wellness journey. Who doesn't want to live a healthy lifestyle? No one. With that being said, the action steps to do so can be challenging. My desire is to encourage you and help you along the way!
Since this is my first blog post, I find it only appropriate to introduce myself a little more thoroughly. Try not to doze off too much while reading this. I promise the next posts will be about much more interesting information! I want to give you a little background on me so that you know my credentials and my heart when reading future posts.
So where do I begin? I guess where all good St. Louisans would start- high school. Yes, yes. I was born and raised in St. Louis, meaning I attended high school in STL. The answer you all are waiting for- Westminster. I attended Westminster Christian Academy. I absolutely loved my time there, where my love for anatomy and physiology grew, as well as my love for Christ. I have been very fortunate and have my parents to thank for offering me outstanding, Christian education throughout my whole life.
After high school, I attended Missouri Baptist University. As much as I wanted a change in scenery- no offense STL- I was offered an opportunity to play college lacrosse and a great education and decided to stay in town for college. I graduated from Missouri Baptist University with a bachelor degree in Exercise Science and Sports Medicine. In the midst of going through school, playing lacrosse, and having multiple jobs, I thought it would be fun to challenge myself even more and throw a kid in the mix. I had my first daughter, Riley Dee, while in undergrad. I had known since I was eleven that I wanted to be a chiropractor- that's a story for another day. I knew I couldn't give up my dream. With lots of love and support from family, I went to Logan Chiropractic College to pursue my doctorate of chiropractic.
With lots of blood, sweat, and tears, I graduated Logan in December of 2017. That's when the fun began! I opened my practice, Fishel Chiropractic, in September of 2018. Since then, my love and passion for learning how to best serve my patients has only grown. I have taken all of the courses provided by the ICPA (International Chiropractic Pediatric Association), which is no easy feat! I have been in pursuit of my CACCP certification and Pediatric Diplomate since December 2017. I will be sitting for the board exam this year! These classes have given me in depth education in the examination, diagnosis, and treatment of the pediatric, prenatal, and postnatal populations. I have taken over 300 post-graduate hours of pre/postnatal and pediatric care since graduating Logan. I am always thirsty to learn, with the desire to help serve my patients better.
During one of the most challenging times in my life, chiropractic college, God lead Dr. Beau to me. We met at Logan while playing intramural sports. Dr. Beau graduated from Logan in August of 2017, just a few months before I did. Just before graduating, he made one of the best decisions of his life and put a ring on my finger. It has been history in the making since. We had a wonderful wedding in June of 2018. Up until recently, Dr. Beau was the head doctor at a different chiropractic clinic. Just recently, we decided to do what we said we would never do- practice together. I told him while dating that I didn't ever want to practice with my future husband, and he makes me eat my words every day. We absolutely love working and serving our community together.
In 2020, on one of my favorite holidays, St. Patty's day, we added a new addition to our crew, Blake Olivia! Even though 2020 was a challenge within itself, we have enjoyed slowing down and soaking in our time with Blake and Riley. We are ready to hit it hard in 2021 and expand our practice even more. Big things are coming to Fishel Chiropractic, and we can't wait to share them with you!
I hope you have enjoyed learning a little about me! I hope I get the opportunity to get to know you as well! If you would like to learn more about myself, Dr. Beau, or Fishel Chiropractic, comment below!